We love working with
ATB Shop
Perhaps our longest partnership. ATBShop has grown with us for over 20 years. Incredibly successful in terms of sales and constantly evolving as a business, this means their website is currently being refreshed and optimised.
High Traffic & High Volume
600-800 orders a month
Bespoke integration with...
Brightpearl POS & Accounting system
See for yourself
www.atbshop.co.uk

One-stop shop for
the adrenaline junkie
The website is fully integrated with Brightpearl for company-wide stock control, POS, order fulfilment and accounting. It also integrates with Google shopping, Google certified merchant and Feefo reviews. We have worked closely to test and improve the search ranking of products, the usability of the product listings and the purchase process.
Under the Hood
This is a PHP/MySQL/Apache based site running on its own PCI compliant dedicated server. The online shops have evolved since we created the first ATBShop site in 2002 but the underlying data structure has remained and been expanded on. The site uses Feefo for 3rd party reviews so we have nightly sales feeds to them to facilitate this. All orders are posted to Brightpearl who manage stock control and accounting.
Why we think this project is sexy
From Director Ben
I met Stu, the owner of ATBShop back in 2000 when we were both competitors at the National Mountainboard Championships. I came away with some wicked gravel rash and a new friend. At the time mountain boarding (All Terain Boarding, ATB) was really new and there wasn't anyone selling the boards and protective kit that we needed so ATBShop was one of the UK's first dedicated Mountain board store. We started working together shortly afterwards and ATBShop was one of my first eCommerce projects. The business has since absorbed other sports like snowboarding (also one of my favourite pastimes), skate and scooters, kite and wake surfing; we have worked with Stu to constantly evolve and improve the site to deliver the best SEO performance and customer experience.
We have created several bespoke bits of functionality like the custom scooter builder. This is an interface for combining sets of predefined products into a bundle with a discounted combined price. There are builders for snowboards, skateboards and scooters.
The other things that make this project really, really sexy are all the third party integrations and awesome automation we have built into the system and continue to do so. More on these below…
Third Party Integrations
Brightpearl is stock control, CRM, accounting and business reporting system that combines data from the POS in the stores and the website. The website posts all sales data to Brightpearl but it also queries it to get realtime stock and pricing info when products are viewed or listed.
Feefo is a third party review platform that surveys customers and provides product and service ratings. The site provides a nightly feed of sales data and pulls in the provided widgets to display product and service badges and reviews on appropriate pages. We also access the Feefo API to get and store more detailed data and review content that is used in the schema markup that's really good for SEO. 
We provide nightly feeds to Google product listing and Google local listing with updated availability and pricing data.
 The contact form and stock enquiry forms also feed into Mailchimp to enrol users into ATBshop's email marketing activity (by permission of course).


Awesome Automation
When items are out of stock users are invited to fill in a form for to be notified when that product is back in stock. These notifications are send out after the nightly stock reconciliation with Brightpearl.
Associated Products
One of the coolest things we did with this site is to create the associated products sections. These are loaded by ajax after pageload (for speed) and show a list of other products that compliment the product being looked at.
What's clever is how we generate this list: we log every product that's viewed, added to cart or bought by user session; we then analyse this data nightly and assign a score to the relationship between any products a user has interacted with during a session. Buying two products gives the relationship between them a higher score than merely viewing them. When the related products box is rendered it pulls in the six products with the highest relationship scores to the product being viewed. Each night as the analysis script is run it also decreases the value of all existing relationships by a small amount so that over time their strength degrades and it removes any relationships that fall below a threshold. Therefore, we have a organic table based on real interaction data. 
One other benefit of the product log is that we can identify popular products and chart the relationship between views, cart adds and sales. This helps us to improve the sales and purchase flow and conversion rate.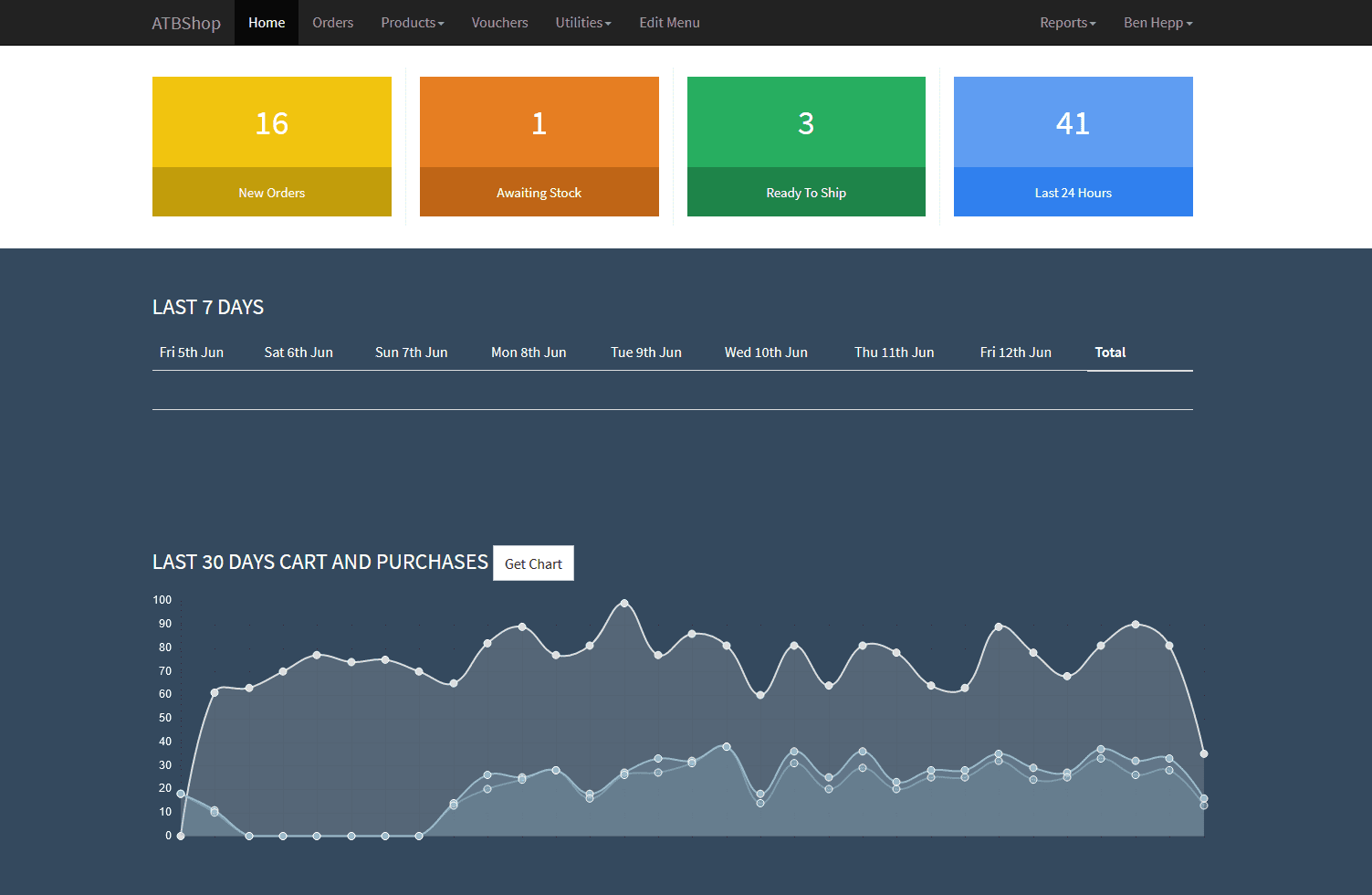 How did Practically & ATB get together?
"Old friends from years of out of work and helped us for many years in software assistance."
What were and are your expectations of working together?
"The project was a work in development for 20 years! Always adapting and changing with new technology and best practice."
How do you feel the project went?
"Great working relationship, there when we need help and ticking away in the back ground for when we need them. However, Ben still needs to try an electric mountainboard 😉"
"Great flexible reliable service for many years partnership."
More we
want to show off

think you would enjoy