We love working with
Community Money Advice
We have worked with Community Money Advice for over 4 years now, supporting their Case Management Software before being asked to rebuild their website. This major rebuild was prompted by an opportunity for CMA to feature on national television, which meant we had a tight deadline to meet.
With us for a long time
4 years of partnership
Many projects undergone & ongoing
Several bespoke & custom build projects
See for yourself

Money Advice for those who need it the most
Community Money Advice (CMA) is a national charity who are dedicated to helping people overcome debt problems. They have hundreds of centres across the UK which every year helps thousands of people from all walks of life, by providing free debt advice and support. Their debt advisors also assist people with their ongoing budgeting plans, to ensure they have the resources and advice they need to remain debt-free in the future.
The challenge of this website was the number of audiences it had to cater for – from people looking for financial advice, to those wanting to get trained at providing it, with potential investors and funders in-between.
The site is structured around meeting the unique needs of those audiences.
We developed a bespoke booking system for their event management.
Alongside this, we also provided a shop facility for the products and publications CMA produces.


We have also made a custom search facility where users can easily locate their nearest centre.
We met the 3 weeks deadline at the end of the project, and are very proud of the functionality we achieved in this time.
Catalyst
We have also taken over and further developed their internal Catalyst project. Catalyst is CMA's debt management tool, enablling them to help support the many thousands of people they work with, to help them manage their debts.
Training Test
CMA needed an online training test and certification system for debt advisors who complete CMA training days. As a result, we created a solution that allows CMA staff to manage multiple-choice based tests, manage training days, associate tests to training days, and subsequently assign debt advisors to training days so that they can take the test most relevant to them.
Because tests, questions and multiple-choice options can change at any time, each one keeps a full version history of changes, and every test attempted by a debt advisor maintains a complete audit trail of answers and results. This way we can be sure that we are accurately representing which tests, questions, and answers were presented to the debt advisor and how they responded to each question.
Under the Hood
Catalyst is a bespoke application built upon the CakePHP framework – something that's a little different from what we usually develop with.
Why we think
This project is sexy
Catalyst comprises a large codebase and database system which contains lots of complex processes – however these are presented in a simple to use system for CMA's advisers who just need something that's reliable & with an easy to use interface.
There are also new elements being developed (such as an Open Banking integration) as well as lots of upcoming features to help advisors with their ongoing tasks – it's very much an ongoing project, with new elements being added all the time.
However, from our perspective, one of the best things about the Catalyst project is that all the development work is for those people who are struggling with debt issues… and in a some small way, we're hopefully helping them see a brighter future.
Coming soon
Catalyst rebuild
Launching Q3 of 2023 is the ground up rebuild of Catalyst – the tool for CMA advisers to help their people manage their debt.
After many years of evolution and add-ons this rebuild includes a new UX design, strategic planning and an entirely new back end (php with Yii) and front end (React.js) to help people faster. Here is a sneak peek…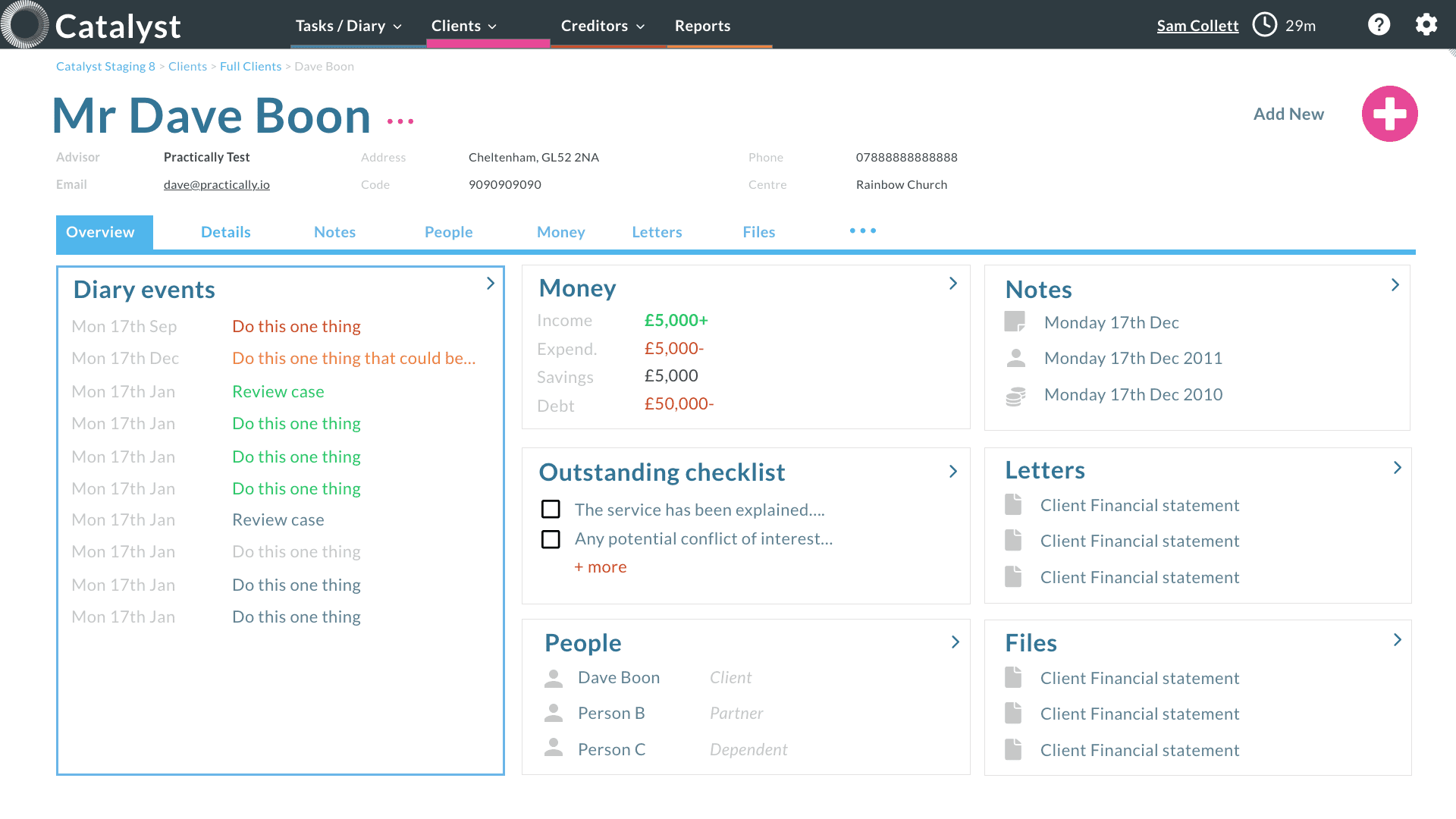 What is it like to work day-to-day with the team?
"They are excellent at out of the box and solution focused thinking with a real 'can-do' approach and a determination to find a way to get the job done as requested."
Heather Keates – CMA's founder and CEO
"Working with Practically.io has been so easy and un-stressful."
"[Practically] are always very efficient, excellent at communicating in non-tech speak and able to ask the right questions to get to the solution. The quality of work is always high and are always genuinely interested in what we are doing. They get involved at more than simply a development level which has grown and strengthened our working relationship over the years."