We loved redesigning
EmployAbility
Employ Ability are a great organisation that enables and helps students with disabilities and mental health challenges to be employed. But more importantly gears up employers to be more responsive to these employees. A redesign of the website which led to a retooling and most of all a complete rebrand.
We are proud that we created a
Unique feel for a unique company
Rebrand, new website, new way of thinking
A long term, multifaceted project
See for yourself
www.employ-ability.org.uk

Delivering heaps of personality, while building an easy to use website.
We created a bold new website and restructured an old and messy one. With a huge emphasis on being different, and serving those 'different' users.
The restructure created a more obvious route for the different user types (Universities, Employers and Students) and streamlined the registration process by splitting the clever back-end from the front-end website.
EmployAbility has solutions for a genuinely disability-inclusive workplace
A clever new branding system
A brand is never just the logo mark. But on this project it did seem to be the toughest part to crack. It was very difficult to bring all of those ideas and ideals to one shape. It took a while and we brought in our students from University of Worcester to help. And they delivered this amazing, balanced, clever people based logo.
On top of the logo is a whole system of colours, icons, shapes and textures. All of these go to make EmployAbility as close to their core brand terms as possible, without becoming twee.
For more on the new brand you can check out the post on the EmployAbility website: Welcome to our new branding
Old and New
On the right you can see the old site. Functional but outdated.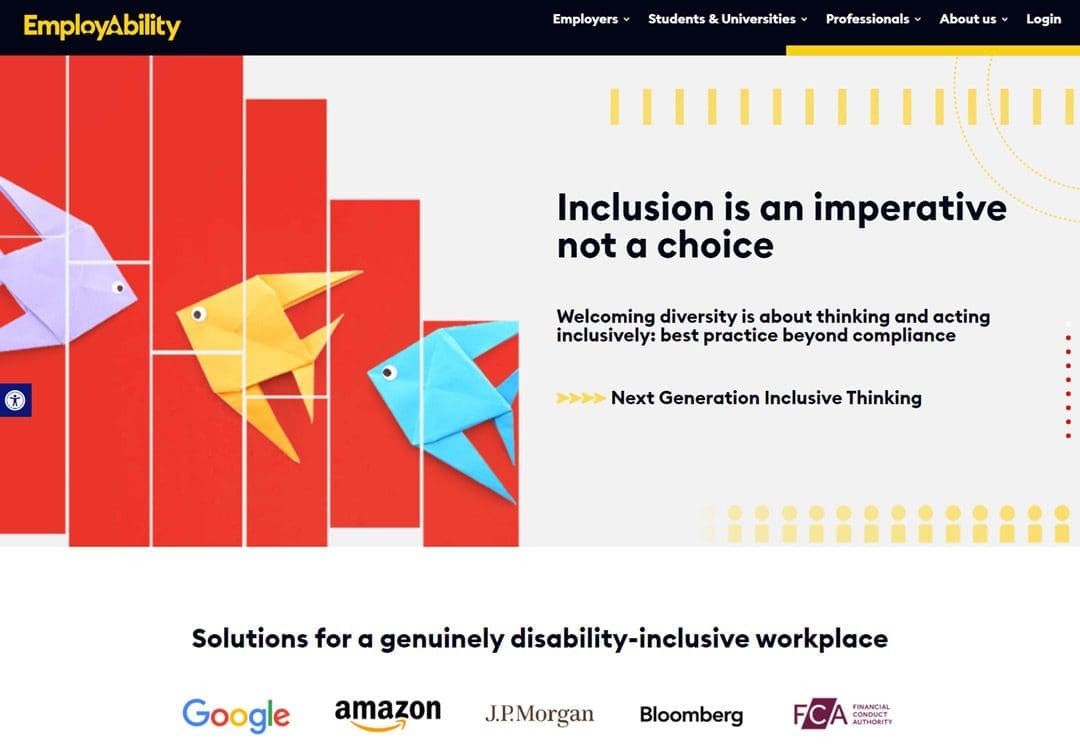 Under the Hood
A big part of what we did on the build is seperating what was one large application into the front end website – the pages if you will – and the backend.
The old website was already created in WordPress. So we took the old site, restyled it and restructured. It was scripts that pull in job, events and internship opportunities. All the application, registration (aka the clever stuff) happens on the backend. 
Why we think this project is sexy
The brand is what makes this website unique, sexy, and fun. EmployAbility came to use with a plan of what they wanted to say – a brand manifesto if you like. This was created with the help of Paul Bay. It was a tricky brief. EmployAbility is in the space of disability recruitment, but this is not the core of what they do. Instead it is an organisation that helps the companies just as much, if not more than, the students. EmployAbility is an enabler of all to see the possibilites of having disabled and neurodiverse employees. Brave was one of the keywords – and this is a brave brand feel for a fearless company. In their words, EmployAbility is:
Unapologetic in the drive for a level playing field, we empower talented neurodiverse and disabled graduates to build the careers they deserve
Tab Ahmad – Founder of EmployAbility
"And, a big shout out to our patient designers, who had the uncanny ability to somehow visually translate all that we threw at them."
More we
want to show off

think you would enjoy