We love working with
Obelisk Support
An ambitious brief for prolonged growth from Obelisk – a provider of expert Lawyers, solicitors and paralegals on a flexible basis. An Uber for lawyers (as we describe it), with their own platform for hiring lawyers on demand , and on the flip-side joining as a lawyer or paralegal.
Update and reboot for growth
See for yourself
obelisksupport.com

Obelisk Support are the original providers of Flexible Legal workers, who have a very unique setup and place in the market. As such they have been much copied, especially since and during lockdown, when the whole of the Legal world also moved to remote, part-time and more flexiblle working.
We were tasked with reimagining the site to generate long-term growth. Starting with the SEO strategy piece, moving through wireframes and then into design and build.
Our design takes the best of their existing brand and upgrades this to build trust and a style all of their own. and to do this we also went back to their core brand guidelines. Obelisk now owns circles, owns red, and has a visual focus on strong, empowered, people.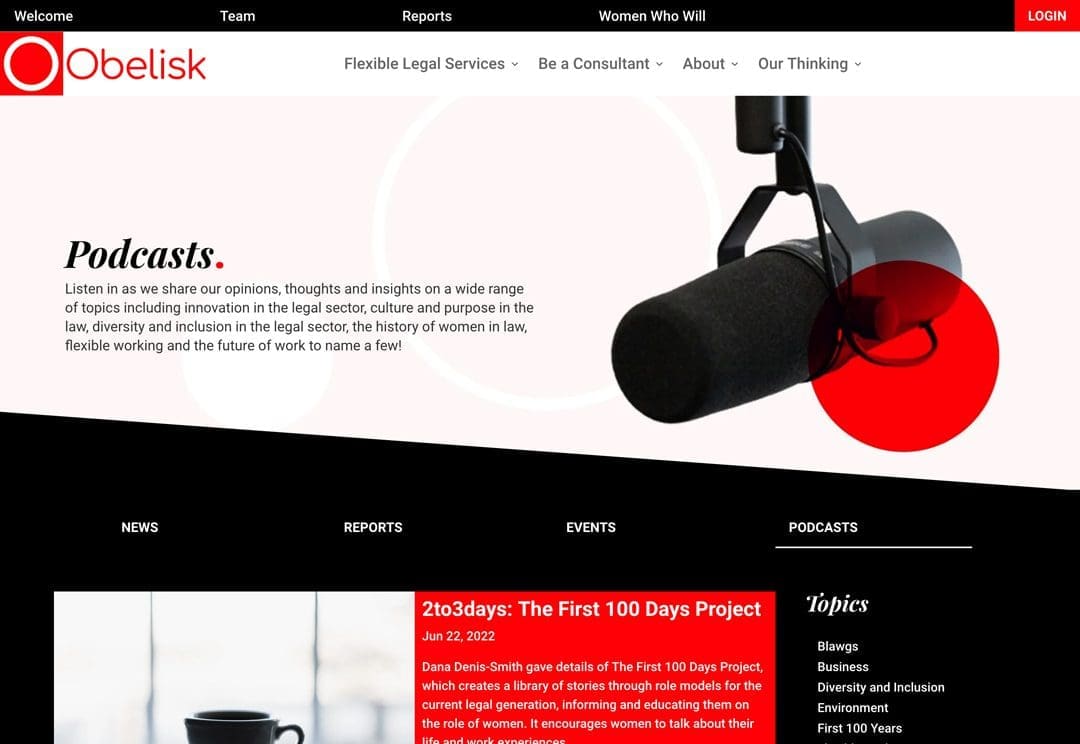 Compare with the old site design.
Under the Hood
Like most of our marketing and SEO sites the site is pretty standard WordPress with Divi. As part of the rebuild we removed a lot of plugins and relied much more on the Divi Theme builder.
Another example of our honed approach to WordPress development and knowledge.
We are proud of… Our strategy and our design
Building on some excellent work around personas we created a "siloed" sitemap with a whole series of landing page – SEO focused pages for particular needs and users.
This was a long term project and strategy with a 6 month gestation from briefing to completion. This is now followed by ongoing support, and the endless strive for page ranking supremacy.
More we
want to show off

think you might enjoy