We love working with
SHIFT Portal
SHIFT provides a standard for sustainability in the housing sector. The SHIFT assessment measures each client against a set of environmental  targets, and their performance in the assessment is the basis for their bronze, silver, gold or platinum award.
The SHIFT Portal also allows the clients to see their progress, compare their performance against targets and sector averages and much more. 
Designed by purpose
Sleek user-focused design & UI
Powerful scoring algorithm
Real-time data processing
See for yourself
shiftenvironment.co.uk

Better sustainability & accountability in the housing sector.
We have transformed SHIFT assessment from an Excel Spreadsheet, into a custom build user interface, retaining all of the assessment's complex maths & logic, while providing a more intuitive user experience, and significantly increasing security of the user data.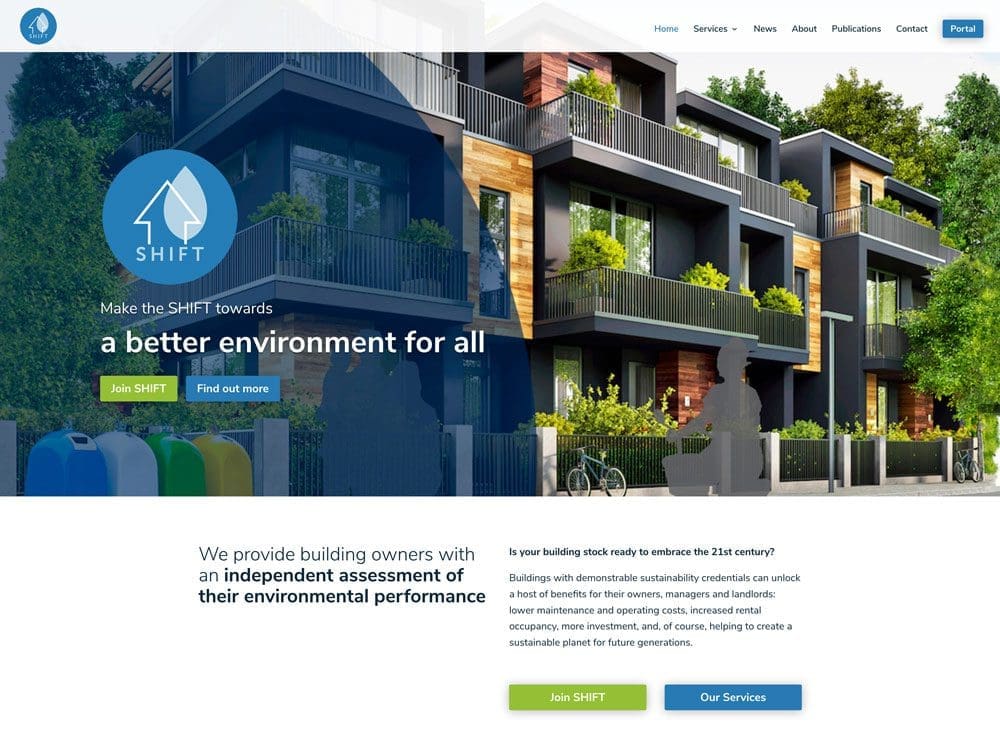 Marketing Website
SUSS Housing have transformed themselves into Shift Environment, thus becoming a one stop shop for environmental matters for house builders and associations. As such asked us to make them their new website. A quick turnaround using all of their old existing content such as news articles (stretching back a long time), eCRM integrations and a publication section. Its simple but rather lovely…
Under the Hood
SHIFT is a fully custom build, powered by open source software like the Yii PHP framework and Chart.JS. The result is a bespoke, robust and modern application designed to handle large amounts of data and files, supercharged by a complex array of scoring calculations happening behind-the-scenes.
Why we think this project is sexy
Energy assessments can be tedious, and without the right UI, very time consuming. The design of the SHIFT Platform is streamlined and completely user focused to make it as quick and easy as possible for them to complete the full assessment.
We have built a robust back end, which handles seamlessly the calculations, scoring and all the additional functionality in the platform. Behind the scenes is a complex set of algorithms and scoring logic.
Using MySQL and Yii's ActiveRecord, we paid careful consideration to ensure the database contains relevant, organised and meaningful information. The schema is structured in such a way that this data always remains accessible and performant – even as the database grows and becomes more complex over time.
In addition we have developed just as sleek and easy to use admin front end, allowing the SHIFT admins to overview and manage all assessment data and users. 
How did you meet Practically?
"Recommended by a friend"
What were your expectations of the project?
"I had high expectations for the project as Practically demonstrated that they understood our requirements and were confident that they could deliver."
How do you feel the project went?
"Very well. It took longer than initially expected but was still delivered in a suitable time frame and on budget."
Do you still work with Practically? If so what is your ongoing relationship like?
"Yes, we are currently working on an ad-hoc basis as you did such a good job initially we would struggle to know what to fill your time with on a retainer!"
Sam McConnochie, Environmental SHIFT Assessor
"Working with Practically to develop our portal has been one of the best decisions I have made for our organisation. The quality and consistency of service has been excellent and we look forward to continuing to work with them."
More we
want to show off

think you would enjoy