We love working with
NHS Glos. Health Service
We have worked on many NHS projects within our home county of Gloucestershire
Gloucestershire's Health & Care is the merging of two NHS health trusts – ²gether NHS and Glos Care. As designers and caretakers of both of the former sites we help deliver the strategy and delivery of the new site.
Long term partnership
Partners for over 14 years (via 2gether)
A huge site
1000's pages of content
See for yourself

The main NHS Trust site
The merging of two NHS foundation sites using the rebrand of a completely new one. In Spring 2017 we created a new site for ²gether. And in 2018 we upgraded and prettified the glos-care website too.
This job was very much about taking the best from both in terms of content, structure and technologies.
We used the same process we use for more commercial "growth hacks". Namely switching the focus of the site to the needs and searches of the end users. This means a radically different design and structure – based very clearly on what users are searching for – "conditions", services and locations.
Under the Hood
The site itself is made with standard WordPress + Divi, with dedicated hosting.
We created the new trust website on top of the existing ²gether site, and merged in a whole series of content from the Glos. Care site. This huge content based site therefore performs really well for SEO and continuity.
Why we really love
Working with the NHS
In our world of website and application creation we often are selling things. So it is great to create a whole series of sites for various aspects of the NHS where we are helping people, and in some cases saving lives.
We love working with the NHS teams and this relationship has built over not years but decades.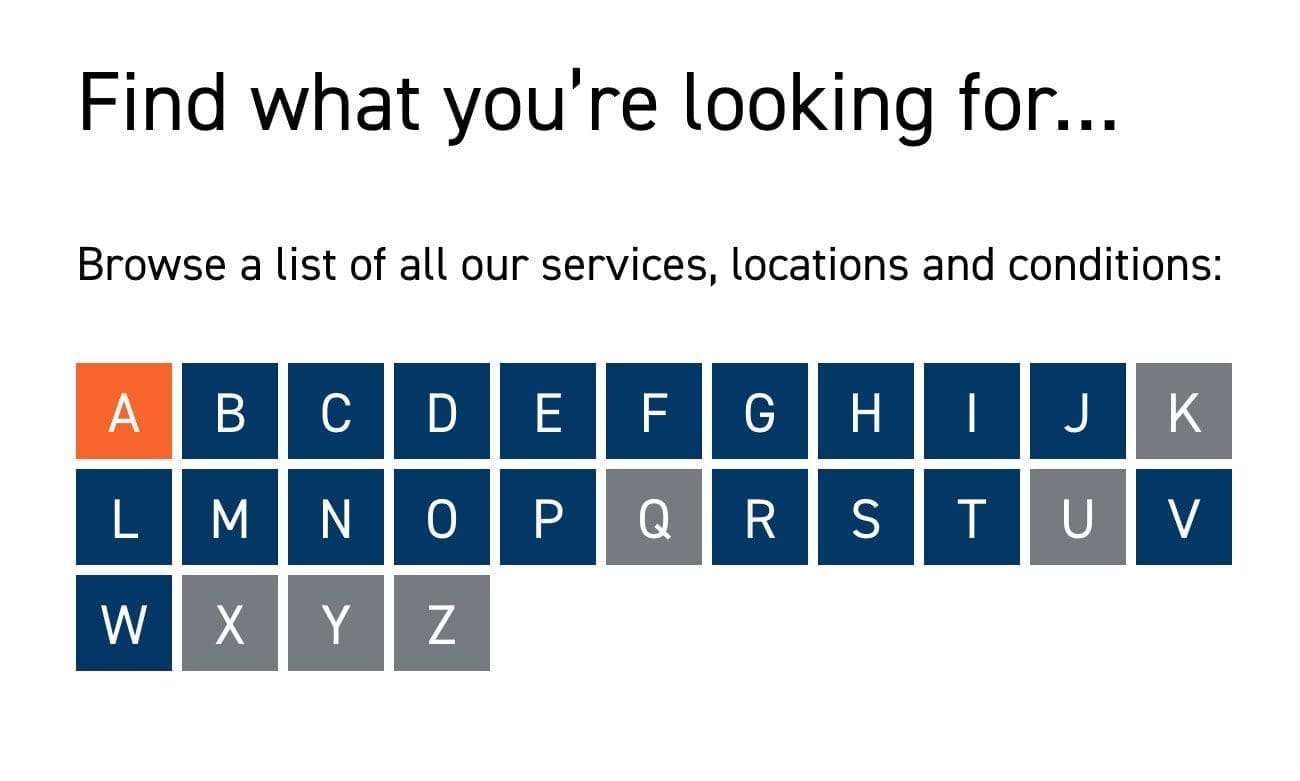 A-Z Navigation
A key navigational feature of the new site is the use of the "A-Z", which links together the conditions and services that are offered by the trust across multiple locations.
2020 Covid 19 – Serology Appointments
We're thrilled to be part of the fight against Covid-19 with the NHS.
In a rapid three-day turnaround, we built a fully-featured booking engine for internal use at GHC, specifically enabling their staff to book Covid-19 antibody test appointments…
…Designed to be under heavy load, the system saw a colossal 790+ bookings created in just over 6 hours at launch. With the valuable feedback given by GHC we have since tweaked and perfected the system, including features such as Double & Duplicate Booking Protection and a beautifully streamlined end-user experience.
It seems that Serology is just the beginning; we're excited to also build a similar flu vaccine system in the coming months, with more NHS departments also registering their interest.
We can't thank the NHS enough for putting themselves on the front line to keep us safe in these trying times. We greatly appreciate the opportunity to contribute back.


Accessibility Upgrade
In 2022 we embarked on a makjor upgrade of the Glos Health and Care Trust website. We focused on aacessibility first and foremost – read all about this in our dedicated article on Accessibility for NHS Trust websites. But alongside this we did a huge tidy up in terms of navigation, site structure and content refactoring. Any site that has multiple editors and a wide amount of stakeholders, as well as the longevity that this site has, needs a tidy every so often. We also split the forms into a seperate site, thus allowing differing strengths of speed (caching and optimisation) and security.
Silo Content pieces – for SEO
The other aspect is that everything related to Anxiety, for example, is found by the users on one very long page which contains everything a user needs to know about the subject. This makes it easy to find by a search engine but also more useful to the end user.
We found that new users were and are searching for symptoms rather than the underlying problems – so again this long landing page style, we hope, is more helpful to these users.
The site is built with search and users in mind. We hope that by using our marketing and SEO knowledge we can improve some people's lives.

NHS ²GETHER
NHS 2gether was Herefordshire and Gloucestershire's division that looks after mental health services in the region. This has now merged with Glos Care to form the Gloucestershire Health and Care Trust. Still with us?
In Spring 2017 we created a new site for ²gether. We used the same process we use for growth hacks. Namely, switching the focus of the site to the needs and searches of the end users. This means a radically different design and structure – based very clearly on what users are searching for and how ²gether can help.
The process of creating the site was a long one, but really interesting. As part of this process we took part in many consultations and steps with all the types of users and organisations.
A key component of the new site construction and design is the use of the "Rainbow of services", which links together the conditions and services that are offered by ²gether across two counties.
Glos. Care Services
Before the big merge we also looked after the Glos. Care Services Trust website. A good example of a polish of an existing site. The site is constructed using the CMS Joomla and had many aspects that were obsolete. We tidied up these aspects and recreated key pages – notably the homepage which much better reflects the Trust.
We also boosted the SEO aspects of the site – a large task as the site consists of a multitude of pages.
Part of this was the UX – with new features such as the mega nav menu.
This project shows how some simple steps can boost conversion and performance.
This is in terms of search, technical but also the perception of users both inside and outside an organisation.



Glos. Community Dental
Back in 2016, We created an entirely new site for Glos Community Dental NHS for the specialist dental care provided at various locations around Gloucestershire. These lovely people deal with those who are unable to visit high street dentists and/or need more specialised care. Created using WordPress the site had some rather unique SEO and marketing aspects – hence a distant brand.
The referral forms on the site are built dynamically – so that, for example, xrays and documents can also be uploaded, but only if you are the right user type.
In Q2 of 2022 we folder the entire site into the master GHC website and still retained and boosted the design uniqueness and all the referral form goodies.
www.ghc.nhs.uk/our-teams-and-services/gloucestershire-specialist-dental-service/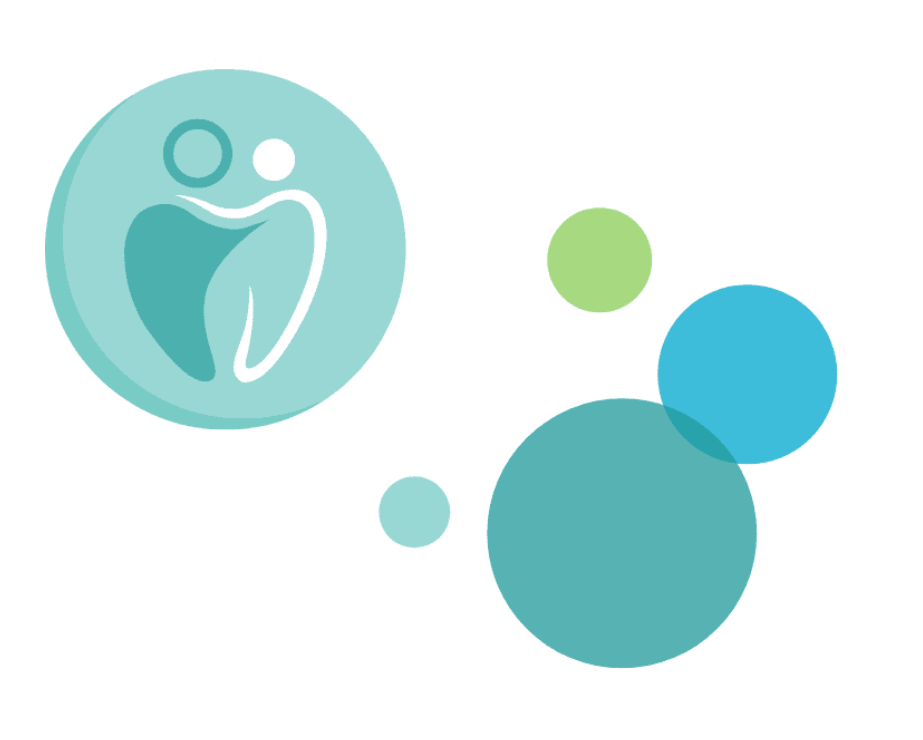 And there's more…
We have created many more sites, microsite and more for the NHS. We helped out with their Covid-19 booking/testing system. We created a rather lovely site for the SW Recovery College. We created the site for the Children and Young People's mental health service, which like many of the sites has undergone many versions. CYP's has recently been the subject of a live brief collaboration with students at the University of Worcestershire, Practically and the GHC team.
Annie Nightingale – GHC NHS Trust
"Thank you so much guys! Its lovely and quite rare to be able to find companies (and people) to work with who are so supportive, accommodating and fun."